In 2012 I attended VidCon for the first time and was recognized by Michael Buckley as a "YouTuber on the Rise." I got to go onto the mainstage while he introduced the promising creators to the crowd and afterward, as I was walking off stage, John and Hank Green (who were co-MCing the morning's events because VidCon was still small enough at this point for them to do so) passed by and offered their congratulations. And before I even knew what was happening, John Green hugged me.
John Green hugged me. Like no big deal.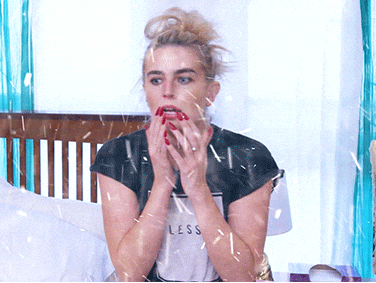 And the saddest part about this whole incident was that I really didn't know THAT much about John (or Hank) at this point. I knew they made up the Vlogbrothers and had seen some of their content. But wouldn't have considered myself a "Nerdfighter" at that point. And I definitely hadn't read any of John's novels yet. It wasn't until I got back to my new found VidCon friends who I quickly learned were DEFINITELY Nerdfighters that I realized the gravity of the situation.
People wait in lines for hours to hug John Green! And I got a casual, congratulatory hug like it was nothing.
So now let's fast forward five years. I have decided that maybe there's some merit to this whole "John Green" thing and read all his books (except Will Grayson, Will Grayson, and that's only because it wasn't in my library during my "Read Everything By John Green" phase). I made sure I saw (and sobbed through) "The Fault in Our Stars" and "Paper Towns" in theaters. And I'm an avid "Dear Hank and John" podcast listener in part because I deeply relate to John's cynicism (and germaphobia). Essentially, I have very much embraced Nerdfighteria.
And when John announced his book tour for his latest novel "Turtles All the Way Down," and I saw there was a stop in Washington, D.C. (which is about as close of a stop most anyone makes near me because so few people come to Virginia!), I knew I had to find a way to go. Because despite seeing John and Hank perform in various capacities at VidCon for the last 5 years, it just felt like there was something special about this particular tour at this particular time in my life and the world.
And it was immensely special. It was silly (as expected) and heartfelt (because TAtWD deals with struggles that though contained in a fictional book, are very real things John's dealt with) and something I really needed.
Feeling part of a community is so important. And the Internet has made it possible to be a part of many diverse communities that before the ability to digitally erase physical distance, would have been impossible. However, the difficulty of internet communities is that the physical distance does eventually become felt. VidCon was the first answer to this problem for me, but now it's become SO BIG and with SO MANY communities coming together that it can be hard to connect with the right people in the right communities that mean something for you.  
Which is why if you have to opportunity to go to something like a John Green Book Tour stop where you're in an auditorium filled with people who are all very much a part of the same community you are, you absolutely need to do it!  The last five to six months have been really tough for me and one of the things (surprisingly enough) that's kept me grounded has been listening to the Dear Hank and John podcast. While hearing Hank and John give answers or insights that I agree with or find interesting is one part of it, what's really helped me is hearing other Nerdfighters' questions. They are inquisitive and sarcastic and confused by the world sometimes. But more than anything it confirms that other people, all around the world even, go through some of the same struggles I go through. It's a helpful reassurance to know I'm not alone.
All of this is to say, I'm so thankful that the Green Brothers are out there creating communities for people like me and that I get to be a part of them digitally and even sometimes physically. These are special moments for me, and I hope that you have a community (or two!) that you can take part in this way too!
This slideshow requires JavaScript.